The History of the Weston Trophy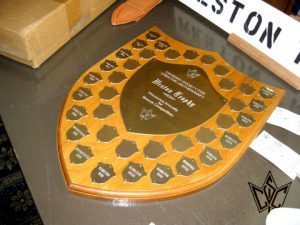 In the early 1950s, when the Weston Leathercraft Guild disbanded, the money left in the Treasury was turned over to the Executive Council of the CSCL. The Executive, in their wisdom, chose to use the funds for a trophy to perpetuate the Weston Leathercraft Guild, which was the first leather craft guild in Canada under the Canadian Handicrafts Guild.
The first Weston Trophy was presented to the London Branch in 1957. By 1958, the judging was based on a Point System, where six articles from one Branch were judged. The Point System, as it was, is described in detail in the "Canadian Leathercraft," Volume 7, No. 4, Summer 1958. In 1961, five articles were required, and today, only four articles are required, but the Executive reviews this number annually.
Rules of Entry for the Weston Trophy include the following:
Each Branch much be a full fledged member of the CSCL
Articles must be the work of CSCL members in good standing
5 (or 4) articles selected by the Branch constitute one entry. If less than the required number of articles is submitted, the final mark is divided by 5 (or 4)
An individual member may enter only one article
No article shall be accepted that has been in a previous Branch competition
No article submitted for Associate or Fellow may be entered in the Branch competition that year, but Branch competition articles may be submitted for Associate or Fellow in the future
Judging is completed by the Board of Selection, using the Point System with particular attention to design and workmanship
The proceeding discussion of the rules and regulations is not to deter you, but to encourage you and your Branch to become involved in the annual Weston Trophy Branch competition!
Marking Criteria – Points System of Judging for Weston Trophy, Associate and Fellow Entries
Revised: April 28, 2006