Larmour Lending Library of Books and Patterns
Thank you for visiting our CSCL Library. Below are links to both our CSCL Patterns and our CSCL Library. For more information on our Library items, please don't hesitate to contact us.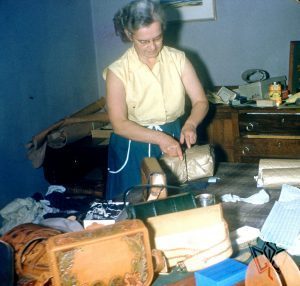 Mrs. Reta Larmour preparing for the travelling Leather Exhibitions in the 1950's.
Dr. and Mrs. Larmour were Charter Members of CSCL who attended the very first meeting of CSCL that was held June 8th, 1950. Dr. Ralph Larmour became CSCL's 2nd President in 1954. Mrs Larmour was a Lawyer and wrote the first Constitution for CSCL.
Throughout the early years of our Guild, Reta Larmour organized travelling exhibitions of Canadian Leather craft. She and her husband collected patterns and books that became the genesis of the Larmour Lending Library.
CSCL is very fortunate to have this incredible lending library that is available to Members. There are books, instructional guides, patterns, and DVD's pertaining to leather crafting as well as design, colour, and the arts. Some of the items are literally irreplaceable, the library contains books that are out of print and many that would be very difficult to find. Many of the patterns for wallet backs, purses, book covers, often from noted known leather crafters, are unique and creative. There is an abundance of "Doodle Pages" teaching skills and providing tips that you could use for inspiration.
Paul Kitchener​ and Kim Winchester have been the driving forces in organizing the many boxes of the Library. Kim spent countless hours scanning the contents and listing everything. Paul has provided memory sticks listing the contents to each Branch President and to our Website.