The Canadian Society for Creative Leathercraft

CANADIAN LEATHERCRAFT
Volume LXX No. 1

0045-5121

January, February, March, April – 2022
| | | |
| --- | --- | --- |
| | | |
In this Edition…

Page 2 – Notes from the Editor, Highlights of the past Executive Mtgs, Membership Info, CSCL Larmour Library

Page 3 – CSCL Virtual Leatherwork Annual Competition 2022

Page 4 – 5 – Here is a pattern that can be used to make a dolls leather costume

Page 6 – Buffalo Plaid

Page 7 – Throwing the Stitch

Page 8 – Hints and Tips from Hammerlauch

©2022 Canadian Society for Creative Leathercraft All rights reserved. Reproduction in whole or in part without permission of the copyright holder is prohibited.

To contact any of our Executive please refer to the CONTACT section of our Website.

Website: www.canadianleathercraft.org

Facebook: https://www.facebook.com/CanadianLeathercraft

Download PDF: Canadian-Leathercrafter-J-F-M-A-2022.pdf

President: Lauch Harrison

1st Vice-Pres.: Jim Wilkes

Past President: Jim Wilkes

Treasurer: Della Chynoweth

Secretary: Richard Borrow/Lauren Malec

Membership: Kim Winchester

Editor: Barbara Chynoweth

ECO ( Electronic Communications Officer): Eugene Pik

Privacy Officer: Lauch Harrison

Workshops: Lauch Harrison, Jim Wilkes, Lester Pinter
Note from the Editor….
The Newsletter "Canadian Leathercraft" is your source of information about CSCL and its members. Also check out the CSCL website at www.canadianleathercraft.org and CSCL's Facebook page. I am always looking for articles for the Newsletter, do you have a project that you have done that you think everyone would be interested in seeing, we are looking for articles?
Highlights from the Past Executive Council Meetings….
The Executive have been Zoom meeting each month. We have been working on preparations for the upcoming Zoom Annual Meeting on May 14th. The Executive debated about having an in person Annual but with the uncertainty of Covid we decided it would be safer to wait another year before taking that step.
We look forward to seeing you on Saturday Morning, May 14th.
Next year we will be looking for some new volunteers to fill some of the Executive positions so if you are interested in being on the Executive let us know.
CSCL Membership
Have you paid your membership? It's a new Membership Year (April 1 to March 31).
If you are joining trough a branch pay your CSCL membership to the Branch Treasurer along with your branch membership fee.
if you are joining as a Member-at-Large or Sustaining Member send your membership payment to the CSCL Treasurer: Della Chynoweth, 3350 Monck Road, Norland, Ontario K0M 2L0 or you can e-transfer to

[email protected]

. Please be sure to include your contact information.
General Member:

Individuals interested in leathercraft who belong to one of the CSCL Branches. (Need not be a leathercraft person.) $40.00 plus your Branch membership fee

General Member – Student*:

A registered full-time student shall pay $5.00

Member-at-Large:

Individual interested in leathercraft who does not belong to one of the CSCL Branches. (Need not be a leathercraft person.) $40.00

Sustaining Member:

Commercial Organizations interested in supporting the Society. $100.00 or material equivalent to $100.00.
CSCL Larmour Lending Library
The CSCL lending Library of Books and Patterns can be referenced on our web site www.canadianleathercraft.org. Head to Gallery and click on CSCL Library of Books and Patterns. Under the Patter option there is 80 pages of patterns that may give you ideas of things to make. Under the Book section there is 13 pages of titles of Books and DVD's about Leather crafting, design and colour. Remember these patterns and books are there for you to borrow from the library. Select item(s) you would like to borrow and send your list to Paul Kitchener at [email protected].
Branch Presidents will assist in pickup and delivery of the orders from branch members.
Members-at-large may order directly from Paul and arrange shipping or printing options, fees may apply.
Memberships are due by March 31st
72nd Annual Meeting

The Canadian Society

for Creative Leathercraft

May 14th, 2022
CSCL Virtual Leatherwork Annual Competition 2022
Cash Prizes and Awards
For Best in Show ($50) Best Moulding, Best Tooling or Colouring (Robert Muma Award $50), Best Hard Sculpture ($20), Woodstock Heritage ($50). Best Novice, Student, General Member, Fellow Awards and other Categories as deemed necessary.
Criteria for the Virtual Leatherwork Entries
Entries close April 30 at midnight.
Entries are free.
Open to all members in good standing.
Maximum of articles/item per Member is 5
Minimum of 4 photos per item.
Photos must show all sides/angles
Photos must be in focus
300Kb Minimum size Explanation/Description of each piece less than 50 words would be appreciated.
Especially if difficult and hidden aspects can't be shown.
Send your entries to this Address: [email protected]
The Annual will be a Zoom Meeting on May 14th from 10 am to Noon. The Zoom sign in will be emailed to everyone during the week before the meeting.
Here is a pattern that can be used to make a dolls leather costume
to use up your scraps of leather
Taken from it's a gift! 50 complete patterns for you to make.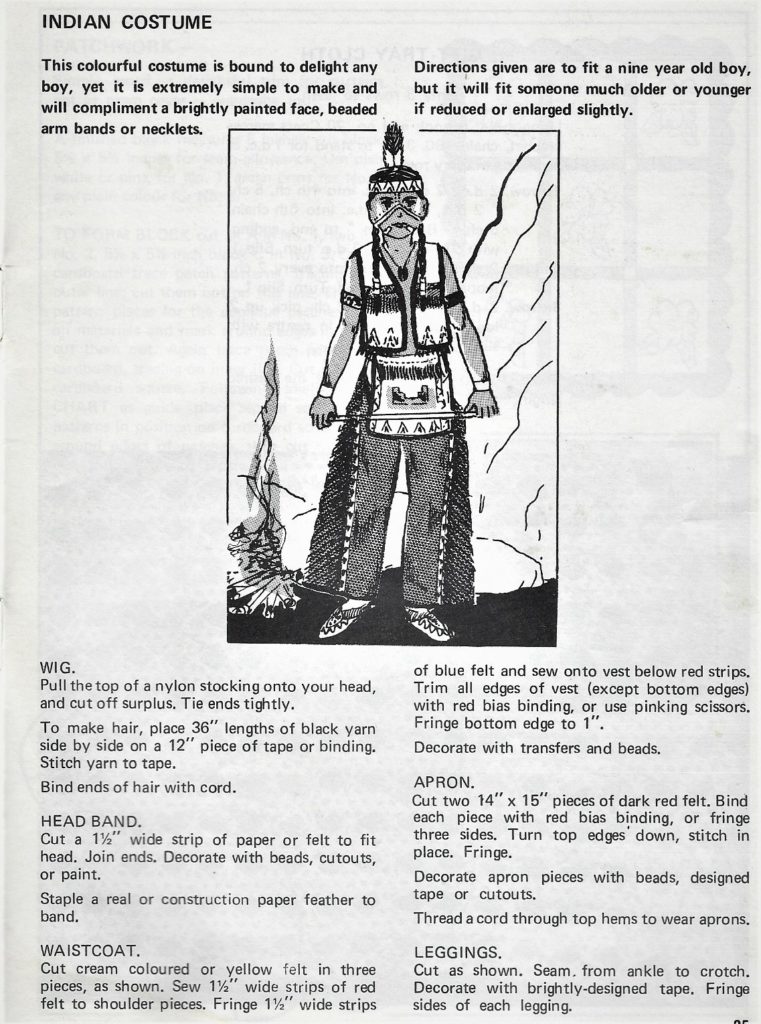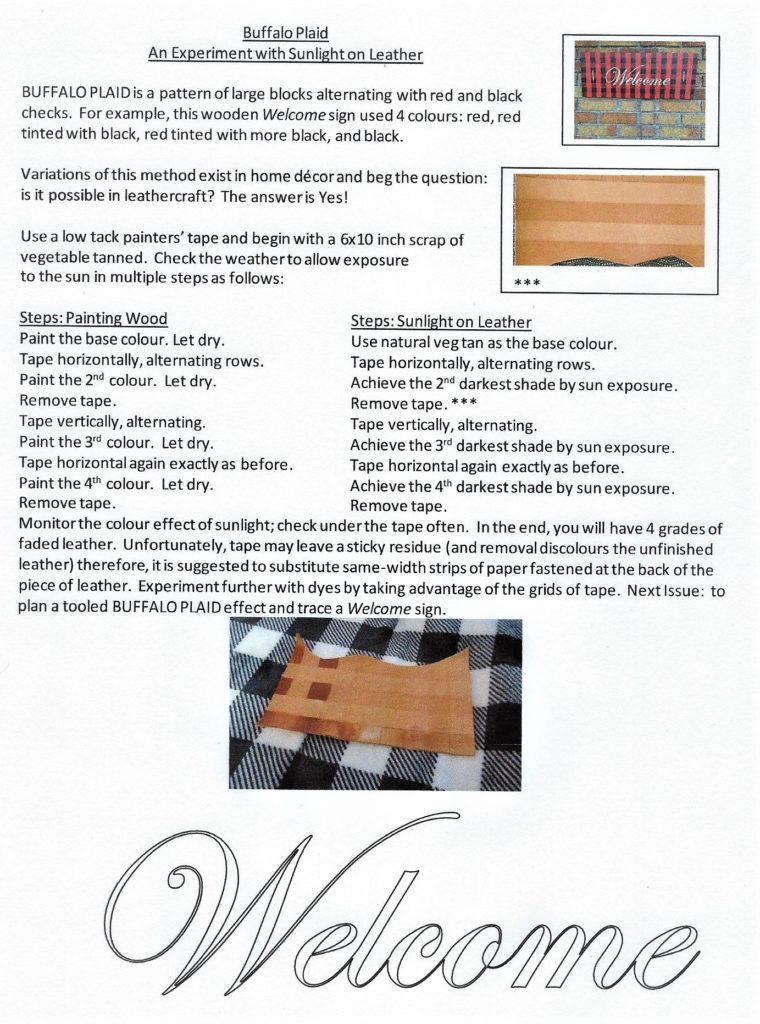 Throwing the Stitch
Throwing the Stitch is a Harness Stitching technique using a thread with needles at each end to close a seam. The holes for the needles are made with an awl or can be made with a Stitch Chisel. The awl strike cuts a slit in the leather. The slit is angled and stretched into a diamond shape, this provides the maximum amount of the leather between the stitches and allows the needles to pass with less effort. See Al Stohlman The Art of Hand Stitching Leather for a good explanation and learning guide on all types of stitching. Valerie Michael The Leatherworking Handbook has some great info for a more classic/refined style.
The standard stitch will make a dogleg on the front (awl hand side) as the stitches are pulled in to the corners of the awl strike. The stitch on the back side will be quite straight. Throwing the stitch will make the thread dogleg on the back and take a little bit of dogleg away from the front.
This is done by placing the back side thread on the over the needle prior to pulling the stitches up tight, by crossing the thread over each other it adjusts the thread position in the awl strike. This slightly locks the threads as they cross over inside the leather giving a very secure stitch. Try it and see the difference, it makes the back look more like the front. With lots of practice your awl strikes will be very regular and the back can look as good as the front. See photo These examples are struck with same awls and stitched with the same thread.
Lauch Harrison FCSCL

Illustration 2: Stitched 7 per inch Top Line Thrown Bottom Line Regular

Illustration 1: Seven per inch Top Line Regular Bottom Line Thrown
Hints and Tips from Hammerlauch
Thread Tips
Larger thread less dogleg – Smaller thread more dogleg (has to do with filling the awl strike hole)
Larger thread more fill – makes each stitch appear longer
Larger thread, Hard twisted thread, Natural Fiber thread, well waxed thread and Core Bonded thread are more "plump"
Awl Strike Tips
Larger awl strike – shorter stitch appearance, thread pulls down into the ends of the cuts
Larger awl strike – less "plump" the stitch
Larger awl strike more dogleg – thread pulls down into the ends of the cut
smaller awl strike longer stitch appearance – more leather between the cuts
smaller awl strike less dogleg – ends of the cuts are closer to the mid line
smaller awl strike more "plump" the stitch
Technique Tips
Thrown stitch less dogleg on the front
Thrown stitch more dogleg on back
Pricking iron used with small awl will show dogleg more than pricking wheel with the same awl
Pricking Chisel – only thread size and Throwing can change the look of the stitch – try different threads then choose the best look
Pricking Chisel will give the Most regular stitch front and back
Pricking Iron will give the most regular stitch when using an awl
Stitch channel on the back will give very regular appearance
Stitches per Inch Tips
For Linen Thread Size
Thread size when paired with correct size awls gives best appearance for thrown or regular stitches
Thicker Leather and Depth from the Edge will prompt use of the thicker/heavier threads
5 Stitches per inch – 7 cord/18 or larger if you have it
6 Stitches per inch – 6 cord/18 or 5 cord/18
7 Stitches per inch – 5 cord/18 or 4 cord/18
8 Stitches per inch – 4 cord/18 or 3 cord/18
9 Stitches per inch – 3 cord/18 or 4 cord/20
10 Stitches per inch – 3 cord/20 or 3 cord/25 or 3 cord/30
11 Stitches per inch – 3 cord/25 or 3 cord/30
Bottom of Form