The Canadian Society for Creative Leathercraft
CANADIAN LEATHERCRAFT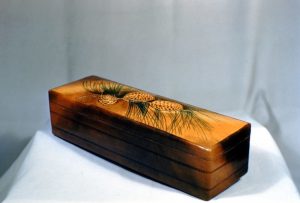 Download PDF: Canadian-Leathercrafter-Fall-2017.pdf
Volume LXVI   No. 1
0045-5121
Fall 2017
In this Edition…
Page 2  Notes from the Editor, Highlights of the past Executive Mtgs, Membership Info, CSCL Larmour Library
Page 3 Welcome Sustaining Members, CSCL Library Review from to Larmour Lending Library
Page 4 – 6  Drawing from our Canadian Leathercraft archives 1957 by Robert Muma
©2017 Canadian Society for Creative Leathercraft All rights reserved. Reproduction in whole or in part without permission of the copyright holder is prohibited.
To contact any of our Executive please refer to the CONTACT section of our Website. Website:  www.canadianleathercraft.org
Facebook "Canadian Society for Creative Leathercraft"
President: Jim Wilkes
1st Vice-Pres.:  Lauch Harrison
Past President: Rob Regan
Treasurer: Della Chynoweth
Secretary: Tracey Howard
 
Membership: Sheena Burger
Editor: Barbara Chynoweth
Website: Eugene Pik
Privacy Officer: Lauch Harrison
Note from the Editor….
This issue I have taken a look back into the 1960's Canadian Leathercraft issues and am including some drawing done be Robert Muma. On the front cover are some pictures from our Photo Archives.
The Quarterly Newsletter "Canadian Leathercraft" is your source of information about CSCL and its members. Also check out the CSCL website at www.canadianleathercraft.org and CSCL's Facebook page.
Highlights from the Past Executive Council Meetings….
We had our first Executive meeting on Sept. 22nd after the summer off. Plans are underway for some workshops and Mississauga has started looking at planning the 2018 Annual.
Download PDF: Canadian-Leathercrafter-Fall-2017.pdf