CSCL Workshops presents: Hinged Leather Box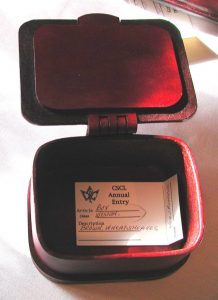 Sunday, March 19, 2017 10:00am to 4:00pm
Focused on Food 885 Rangeview Road, Mississauga
Registration – $45 members $50 non-members Materials – included
Registration deadline March 16, 2017
To Register: Contact Lauch Harrison 905 252 4092 or Jim Wilkes

Potluck Lunch
Bring something for the Pot Luck Lunch Beverages and water will be provided.
Outline
The workshop will use 5 – 6 oz Veg Leather & Sole Leather to construct an interlocking hinged top that will cover a small leather box. Dye will be used to colour the veg tan leather: block dye, acrylic top coat & saturation will some of the techniques discussed. The Hinged Box design was created by David Trotter and perfected by David McPherson FCSCL, this iteration is a combination of what I could remember and what I reinvented to bring the Hinged Box in this form to the workshop.
Tools
Please bring your tools, there will be loaners and some tools to purchase.
Head Knife, Straight Edge, Small Round Edger #0 & #1, cutting boards, scratch awl, bone folder, spring clamps and French Edger.
Supplied material – 5-6 oz Leather, sole leather, wood dowel, dye, burnish gum.
Adhesive
Supplied loaner tools – all the tools above plus clamping boards, smooth hammers.